Courses
Courses by Semester
Courses for the Graduate Certificate in Digital Humanities can be taken across NC State's colleges as well as at UNC and Duke by registering through the inter-institutional consortium in the Triangle.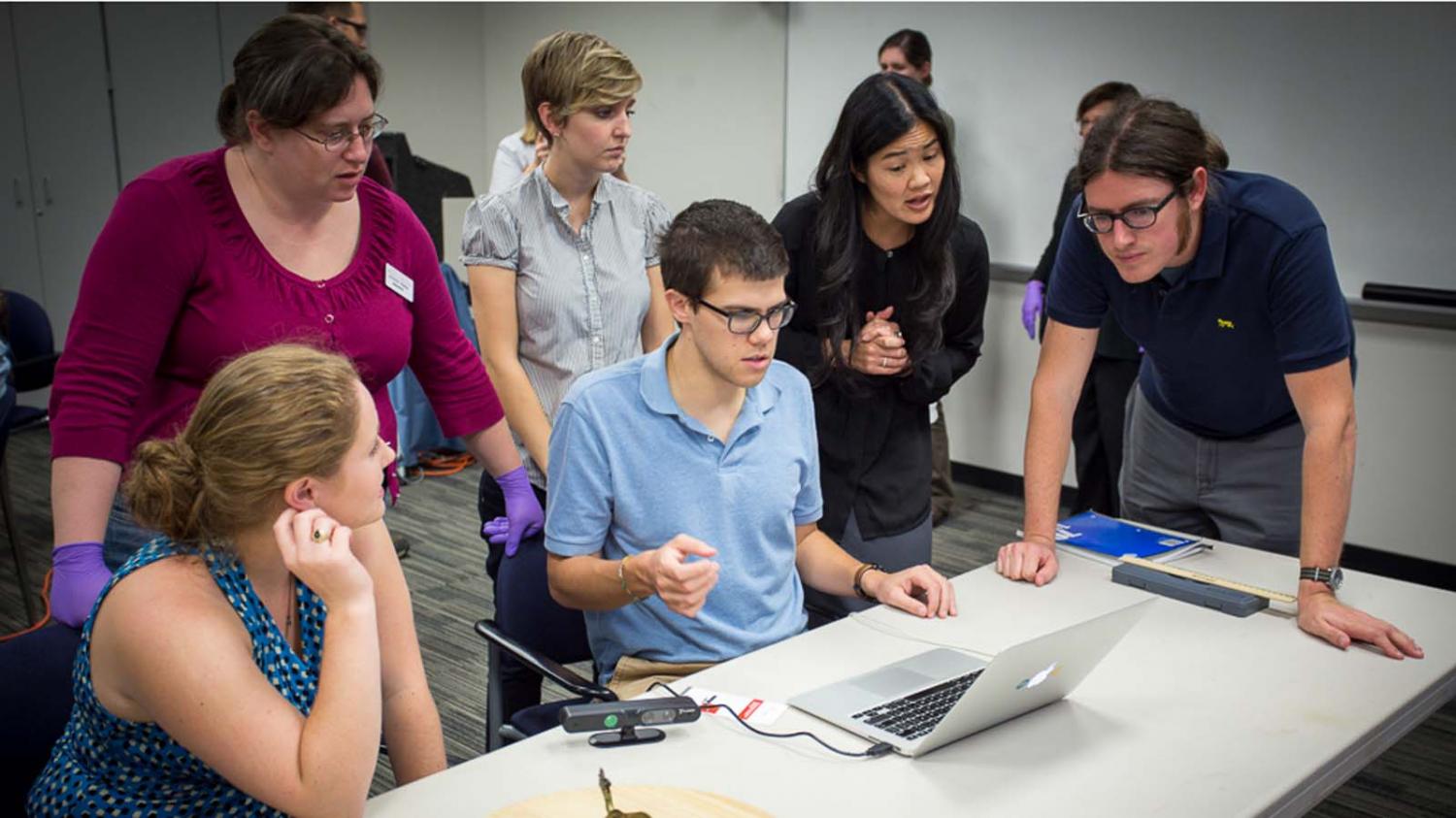 General Course List
Courses for the DH Graduate Certificate can be chosen from the menu of approved choices below. (See also the listings of available courses per academic semester.) For course descriptions not listed here, please refer to the NCSU course catalog as well as other DH courses at Triangle institutions. Know of a course not on the list below? Contact the certificate coordinator to get it added.
Please note that the certificate follows policies set by the NCSU Graduate School. Courses at the 300 level and below are not eligible for certificate credit, though up to one course (for a maximum of 4 credit hours) may be at the 400 level. Students who take letter-graded 400-, 500- and 700-level courses do not have the option of taking the courses for 'credit only'. Because audited classes do not result in course credit, they cannot be applied to the certificate's 12-credit total.
NC State University
Department of English
ENG 506 Verbal Data Analysis
Research strategies for understanding how spoken and written language shapes activities (e.g., design, instruction, counseling, gaming interactions, e-commerce, etc.). Tracking patterned uses of language as verbal data (e.g., grammatically topically, thematically), formulating research questions and designing studies to answer those questions through quantitative descriptive means. Sampling, collecting and managing data, developing coding schemes, achieving reliability, using descriptive statistical measures and reporting the results.
ENG 519 Online Information Design and Evaluation
Concepts and practices related to multimedia information design, information architectures, human-computer interaction and genre for complex websites.
ENG 583 Studies in Composition and Rhetoric
Recent topics have included: Digital Media Theory, Introduction to Humanities Physical Computing and Emerging Genres
ENG 584 Studies in Linguistics: Laboratory and Computational Tools
Selected problems and issues in linguistics. Specific course content varies per instructor.
ENG 587 Interdisciplinary Studies in English: Introduction to Digital Humanities


An introduction to the field, methods, tools and professional landscape of digital humanities in practice.

CRD 702 Rhetoric and Digital Media (cross-listed in Communications)
Intensive critical study and evaluation of the conceptual vocabulary of rhetoric and its application to digital communication and digital media. Focus may include the following concepts: community, genre, figuration, argument, narrative, dialogue, deliberation, topoi, pathos, ethos, kairos.
Department of History
HI 534 The Theory and Practice of Digital History
Introduces students to the theory and practice of digital history. Students will examine theoretical scholarship on digital practices in history, exploring issues of capacity, accessibility, interactivity and hypertextuality. Students will critique examples of digital history including digital archives, exhibits, scholarships and teaching resources and then apply conceptual knowledge in the creation of their own digital history projects.
HI 535: Spatial History
Introduces students to the methods, problems, and questions of spatial history. Students will examine major works in spatial history and historical geography, and develop their own projects utilizing the tools of historical GIS. Students will engage in theoretical discussions about the role of space in history and, at the same time, will acquire the skills for collecting, managing, and analyzing historical spatial data. The course is geared to students without prior knowledge of GIS. Graduate standing or PBS status.
HI 599 Digital History Practicum
Specific course content varies per instructor.
Department of Communication
COM 537 Gaming and Social Networks
Exploration of inter-relations among mobile technologies (cell phones, PDAs), location-based activities and playful/social spaces. Investigates: (1) the definition of basic gaming concepts (community, narrative, play and space); (2) the history of games as social environments, with particular emphasis on multi-user domains (MUDs); and (3) the definition of games, which use the physical space as the game environment, such as pervasive games, location-based games and hybrid reality games. Discussion of inter-connections among games, education and art.
COM 547 Mobile Technologies and Social Practices
Mobile communication technologies and their influence on communication patterns and social behavior. Conceptualization of cell phones beyond mobile telephones, as Internet access points and gaming devices. History, current uses and future perspectives for the social use of mobile interfaces. The creation of new mobile communities. The influence of mobile images on communication and the creation of mobile networks. Use of mobile phones across cultures and places, such as Asia, Scandinavia, Africa and Latin America.
COM 598 Internet and Society
Variation in content.
Department of Computer Science
CSC 116 Introduction to Computing - Java**
An introductory course in computing in Java. Emphasis on algorithm development and problem solving. Careful and methodical development of Java applications and applets from specifications; documentation and style; appropriate use of control structures; classes and methods; data types and data abstraction; object-oriented programming and design; graphical user interface design.
CSC 281 Foundations of Interactive Game Design**
Surveys history, technology, narrative, ethics and design of interactive computer games. Work in teams to develop novel game designs and computer games. Introduction to the interplay of narrative, technology, rule systems, play and culture in the creation of interactive games. Programming experience not required.
Department of Art + Design
ADN 419 Multimedia and Digital Imaging***
Intensive hands-on investigation of the tools, techniques and processes for the development of interactive multi-media projects. Media teams will emphasize shaping an idea into a well thought-out design that works as an interactive experience.
ADN 423 Digital Modeling
Hands on introduction to 3D digital modeling tools and techniques for artists and designers who want to expand their skill sets to include 3D practices. The course has applications in several disciplines including; animation, illustration, surface design and concept development. Explores the use of surface textures, lighting and compositing. Examines strategies for using 3D tools to create prototypes for physical objects, integrate 3D elements into 2D images and create models for animation.
ADN 502 Advanced Visual Laboratory***
A general title of Advanced Visual Laboratories under the supervision of an Art and Design faculty member to provide intensive experimental work in various phenomena and disciplines related to design.
ADN 561 Digital Animation and Imaging Seminar***
Intensive research, presentation and discussion of animation. Addressing historical animation issues related to media, culture and technology. Advanced study of animation and imaging through study of the history of multimedia animation from numerous perspectives, including filmmaking, painting and drawing, theater and animation history.
College of Education
ECI 511 Computer Applications and Curriculum Integration
Foundational study of technology integration standards, models and conditions informed by research. Analysis of micro classroom and macro school/institutional technology plans and development of sample technology plans and projects representative of integration across curricular areas.
ECI 512 Emerging Technologies for Teaching and Learning
Examination of emerging technologies as applied in educational settings with a focus on related research, case studies, theoretical underpinnings and strategies for effective integration.
ECI 513 Teaching and Learning with Digital Video
Development and implementation of digital video within educational contexts and situations. Design of educational watching, analyzing and creating activities with video. Application of conventions and genres of digital video capture and editing to sample technology projects across curricular areas.
ECI 514 Multimedia Design and Applications in Instruction
Examination of learning theories and research-based principles for multimedia design to select/apply appropriate digital resources and create maximally effective educational products.
ECI 515 Online Collaborations in Education
Examination of models of collaboration, sample online collaborative strategies and projects, tools supportive of cross-classroom collaborations and research findings from collaborative initiatives.
ECI 516 Design and Evaluation of Instructional Materials
Characteristics and selection of various media for instruction and their use in educational settings. Design and production of instructional materials. Analysis of research in the field. Individualized projects and assignments. Application of grounded research and theory concerning learning to design of instructional materials. Structured projects and practical experiences used to transfer design principles and evaluate instructional products.
ECI 546 New Literacies and Media
Critical analysis of new literacies that are prompted by emerging technologies and participatory media in K-12. Design and application of new literacies and media instructional practices to literacy curriculum and other discipline areas.
ECI 717 Advanced Multimedia Design and Applications in Instruction
Advanced study and application of instructional design principles underlying development, evaluation and integration of multimedia and hypermedia in K-12 settings.
* Available to doctoral students only.
** Courses at the 200-level cannot count toward the certificate's credit hours but may be elected.
*** These courses have prerequisites in the College of Design: ADN 419 requires ADN 105 and ADN 219; ADN 561 requires ADN 460 and ADN 419.
Additional courses available at UNC Chapel Hill
School of Information and Library Sciences (SILS)
INLS 490 Usability Engineering
Course description will be posted when the course is offered.
INLS 512 Applications of Natural Language Processing
Study of applications of natural language processing techniques and the representations and processes needed to support them. Topics include interfaces, text retrieval, machine translation, speech processing and text generation.
INLS 541 Information Visualization
An introduction to information visualization through reading current literature and studying exemplars. The course reviews information visualization techniques, provides a framework for identifying the need for information visualization and emphasizes interactive electronic visualizations that use freely available tools. Students will construct several visualizations. No programming skills are required.
INLS 613 Text Mining


Course description will be posted when the course is offered.

INLS 720 Metadata


Course description will be posted when the course is offered.

INLS 740 Digital Libraries
INLS 890 Making the Humanities Digital


Course description will be posted when the course is offered.
Journalism and Mass Communication
JOMC 491 Mobile App Design and Development
Course description will be posted when the course is offered.
JOMC 581 Multimedia Design
Permission of the instructor for students lacking the prerequisite. Theory and practice of multimedia design with an emphasis on usability, design theory and evaluative methodologies, including focus groups, survey research, eye-track testing and search engine optimization.
JOMC 582 Interactive Multimedia Narratives
Permission of the school. Students learn how to gather audio and video content, editing and storytelling techniques and how to publish these media onto a variety of multimedia platforms.
JOMC 583 Multimedia Programming and Production
Permission of the school. Advanced course in multimedia programming languages that includes designing and building dynamic projects.
JOMC 584 Documentary Multimedia Storytelling
Permission of the instructor. Students work on a semester-long documentary multimedia project that includes photo and video journalists, audio recordists, designers, infographics artists and programmers. Open by application to students who have completed an advanced course in visual or electronic communication. JOMC 585 3D Design Studio
JOMC 586 Intermediate Multimedia
Web programming, graphic design and storytelling for the Web. Students will use HTML5 CSS3, JavaScript and other Web publishing languages while learning how to design, storyboard and script an interactive storytelling project. Students will collect and incorporate photos, text, video, graphics and database information into interactive multimedia presentations.
American Studies
AMST 840 Digital Humanities/Digital History
This student-driven, collaborative course explores the impact of digital technology on American Studies, considering theoretical and practical ways the digital world offers both vexing problems for humanities scholars and tempting solutions to their questions. This course will be organized around student needs and interest and seeks to create an environment where students can use digital tools to explore their research questions and enhance their projects. The shape of the class is thus very much up to those enrolled, but participants should expect to discuss readings on digital humanities, review case studies, critique examples of digital public projects and practice using digital tools. No prior DH training is necessary, but a willingness to experiment and contribute to crafting and reaching our shared goals will be essential.
AMST 850 Digital Humanities Practicum
This course approaches digital humanities through practical experience in a lab setting and seminar-style reflection upon and discussion of that experience. Administered through the Department of American Studies, the Digital Innovation Lab shares with it a commitment to public humanities that integrates community engagement, digital technologies and inter-disciplinary inquiry; to preparing graduate students to work effectively in academic and non-academic settings; and to realizing synergies across all areas of academic practice: research, engaged scholarship, graduate training and student learning. We also benefit from and share the department¿s emphasis on place: the local, the regional, the national and the trans-national, rooted in our role as public research university supported by the citizens of North Carolina. Participants will work with Will Bosley, General Manager and other staff of the DIL to contribute to ongoing DIL project work and to augment and expand published projects. In addition to exploring and evaluating a range of digital humanities tools, they will learn to use DH Press to design and implement digital humanities projects and explore different ways of visualizing digital humanities data for academic and non-academic audiences. They will gain valuable experience in developing effective work practices and hone project management and communication/presentation skills of particular relevance to interdisciplinary, collaborative, public-facing digital humanities practice.